CUSTOM FREESTYLE KITE BOARDS
I have worked with many different styles of rider and built many styles of kite boards including twin tips, mutants, directional wave boards, and the hybrid M2. These are some of the more popular designs that I have designed and can be made to your custom specifications

John Amundson T2 This design works well in the 100cm to 135cm size range. The T2 Small is a small, wide twin tip that gets on plane early and glides through those pesky light wind spots.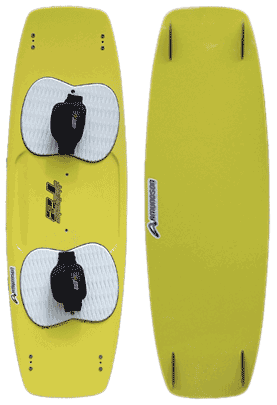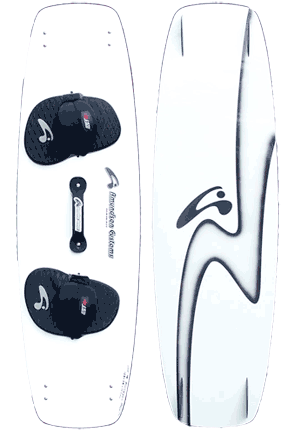 John Amundson T2 Mid Size The T2 Mid Size Twin Tip is a great all around board for most riders. It is a very easy to ride twin tip while being progressive to bring riding to the next level. This design is most popular in the 130cm to 150cm size range.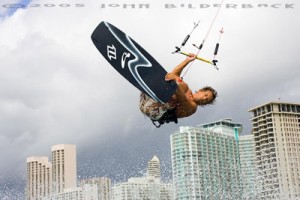 John Amundson M1 The M1 is the larger mutant in the M series. This design works very well in the surf and will perform at the highest levels in freestyle riding. In addition to the traditional 6 fin format, the M1 is now available in a tri fin format which is very popular in the surf. This design is most popular in the 137 to 150 sizes.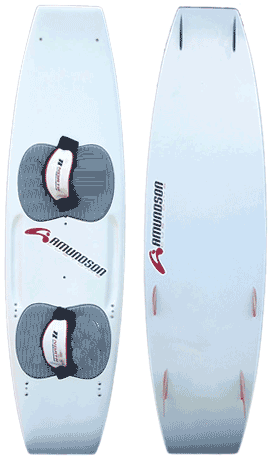 John Amundson M2 The M2 was conceived by Will James and myself. This design brings together both twin tip riders and directional riders. It looks like a twin tip but has hints of a directional. The rocker line has a straighter tail and a curvier nose. The fins are larger in the tail and smaller in the nose. The straps are offset to the tail. The concept of this design is to have a nose and a tail with the benefits that go with them but will ride like a twin tip as well. The most popular sizes are 125cm to 135cm.